URBAN EXTERIORS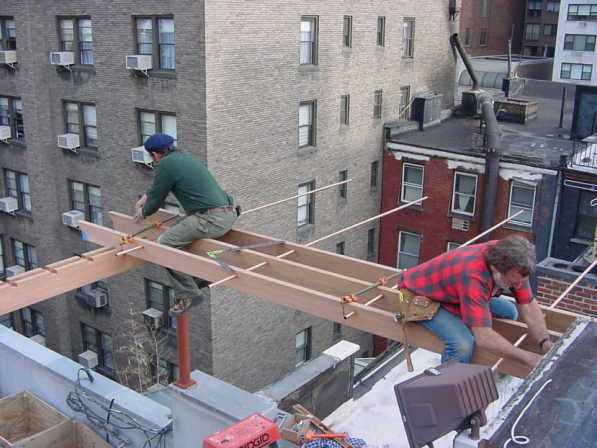 Mahogany pergola with copper pipe on a Manhattan rooftop
---
My profession is woodworking...it's also my passion, and it shows in my work. I love details, and pay particular attention to them.
I usually work alone, but on some jobs, I bring in my friend Avra. We have both been carpenters for over 25 years, with experience in all phases of woodworking. The last 5 years, we have teamed up to do landscape woodworking, including decks, arbors, pergolas, planters, fences, and even a treehouse. I work mostly with Ipe, Mahogany, Cedar, and pressure treated southern yellow pine, but am not limited to those species. I plug all the screw holes, sand the deck, and seal it with Penofin.
I'll customize the project to your needs and budget, and will help you with design, or work from your plans. I work mostly in Brooklyn and Manhattan, but I will travel. I give free estimates, and will supply you with current references.
To contact me, send an E-mail, or call...

Steve Rayboy
Urban Exteriors
718-789-7398
347-526-8670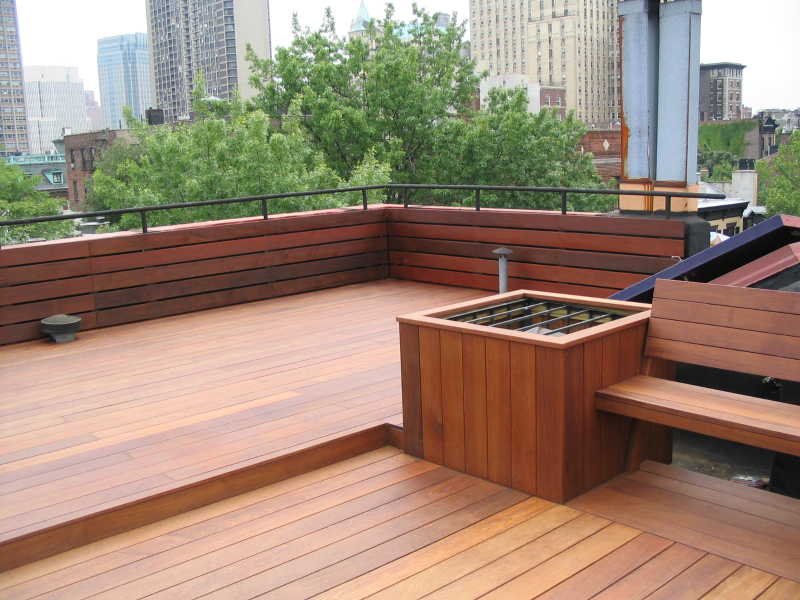 IPE ROOF DECK, FENCE, AND BENCH...BROOKLYN HEIGHTS


---
click here for more photos of decks and arbors



Photo Links
Mahogany Pergola on a manhattan rooftop. The finished job with Ipe deck, planters and fence
Parlor Floor Deck and another. Herringbone pattern, made from Ipe...Fort Greene, Brooklyn
Cedar Panel & Lattice Wall. --- another view --- one more view
Cedar deck Parlor Floor...Prospect Heights, Brooklyn
Roof Deck Prospect Heights, Brooklyn
Ipe deck built in sections, parlor floor...Park Slope, Brooklyn
Custom Cedar fence
Parlor floor extension Deck and arbor...Park Slope, Brooklyn
Cedar Deck with matching planters and trellis...Park Slope, Brooklyn
Cedar Deck front view...and from above...Prospect Heights, Brooklyn
Cedar Deck with removable panels...Parlor floor extension, Park Slope, Brooklyn
A Park Ave. penthouse Cedar Arbor from below...and above. Featured in the book "Gardens in the Sky"
A Sag Harbor Cedar wraparound Pergola
Tribeca Cedar Pergola
Cedar Planter, Cedar Plant Box
A group of Planter boxes
Outdoor steps with platforms
Treehouse/playhouse
in Greenwich, CT...and one in Brooklyn
Even a House or 2.

I also do Interior woodwork...Cabinets, Built-ins, Closets

Wall Units.
...A wall of cabinetry
Built-ins
...Bookcase/radiator cover
Walnut Fireplace Mantel/Surround
Closets
Shin-Zen at the Seido Karate world headquaters in New York City
Shin-Zen at Sensei Monte's Karate dojo in Brooklyn

Door framing & hanging
Moldings...I've installed miles of base, chair rail, crown moldings and door/window casing
Bookcases
Cabinets
Radiator Covers
Tables
Display Cases
Chessboard from Cedar, Maple and Cherry
Loft Beds

If you want me to work for you, or have a comment...
E-mail me @
steve@urbanexteriors.biz